PACIFICA GROUP MEMBERSHIP PROGRAM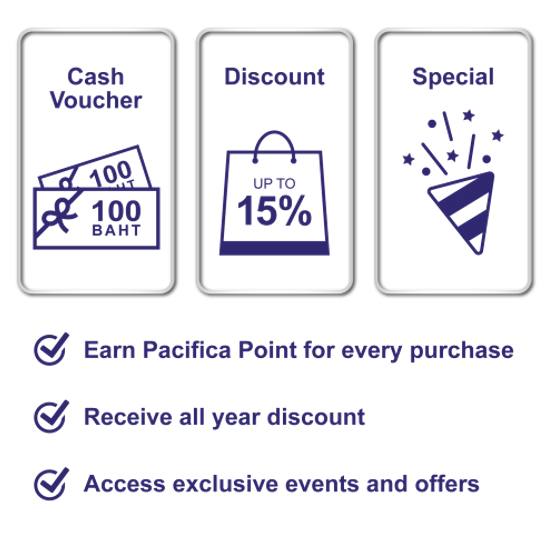 You can become a Pacifica member by completing the membership registration at any participating Pacifica stand-alone and on-line shops. Simply enter your mobile number and ID card (for Thai) or passport (for expatriates/tourists) information to unlock exclusive privileges & benefits.
Every 25 Baht spent of qualifying purchases earn 1 Pacifica Point. Every 200 points equal a reward of 100 Baht Pacifica Voucher. You can collect points when you shop in-store or on-line. To redeem your Pacifica points, please visit and enjoy our personalized services at any Pacifica stand-alone shops.
By presenting your citizen ID card or passport during the in-store redemption of Pacifica points, this will prevent unauthorized redemption and ensure maximum protection of your privileges & benefits.
Checking your point balance and updating your personal information has never been this easy – just visit and enquire at any Pacifica stand-alone shop. Alternatively, you may contact Pacifica customer service at Telephone 02-034-9777 (Monday-Friday 9:00AM-6:00PM) or Email: crmsupport@pacifica.co.th
Pacifica Points will be redeemed based on a First in First out (FIFO) basis. Points gained by June 30th of the current year will expire the following year on June 30th. Points gained after June 30th of the current year will expire the following year on December 31st.
There are 5 Membership Classes available: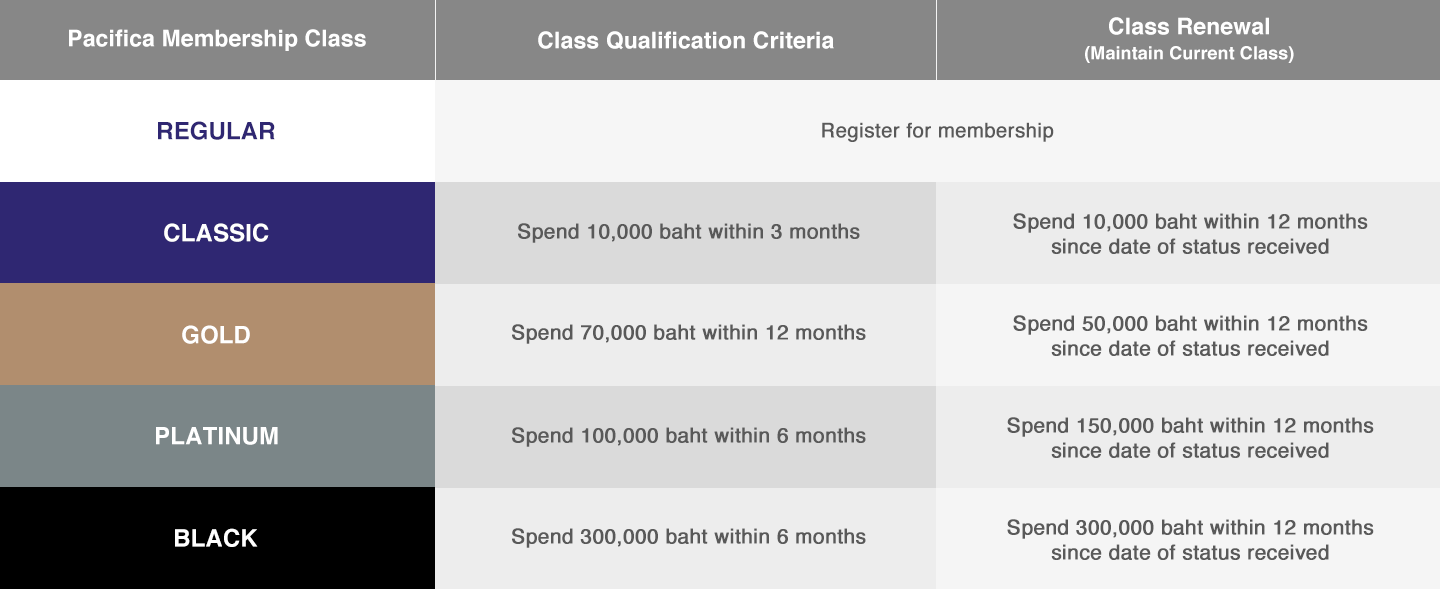 THE MORE YOU SHOP, THE MORE YOU ENJOY! From Regular, Classic…to Black, Rewards & privileges for the respective Pacifica Group Membership classes are awaiting you.